Attorney
Lawyer Desk / Christi Wallace, Esq.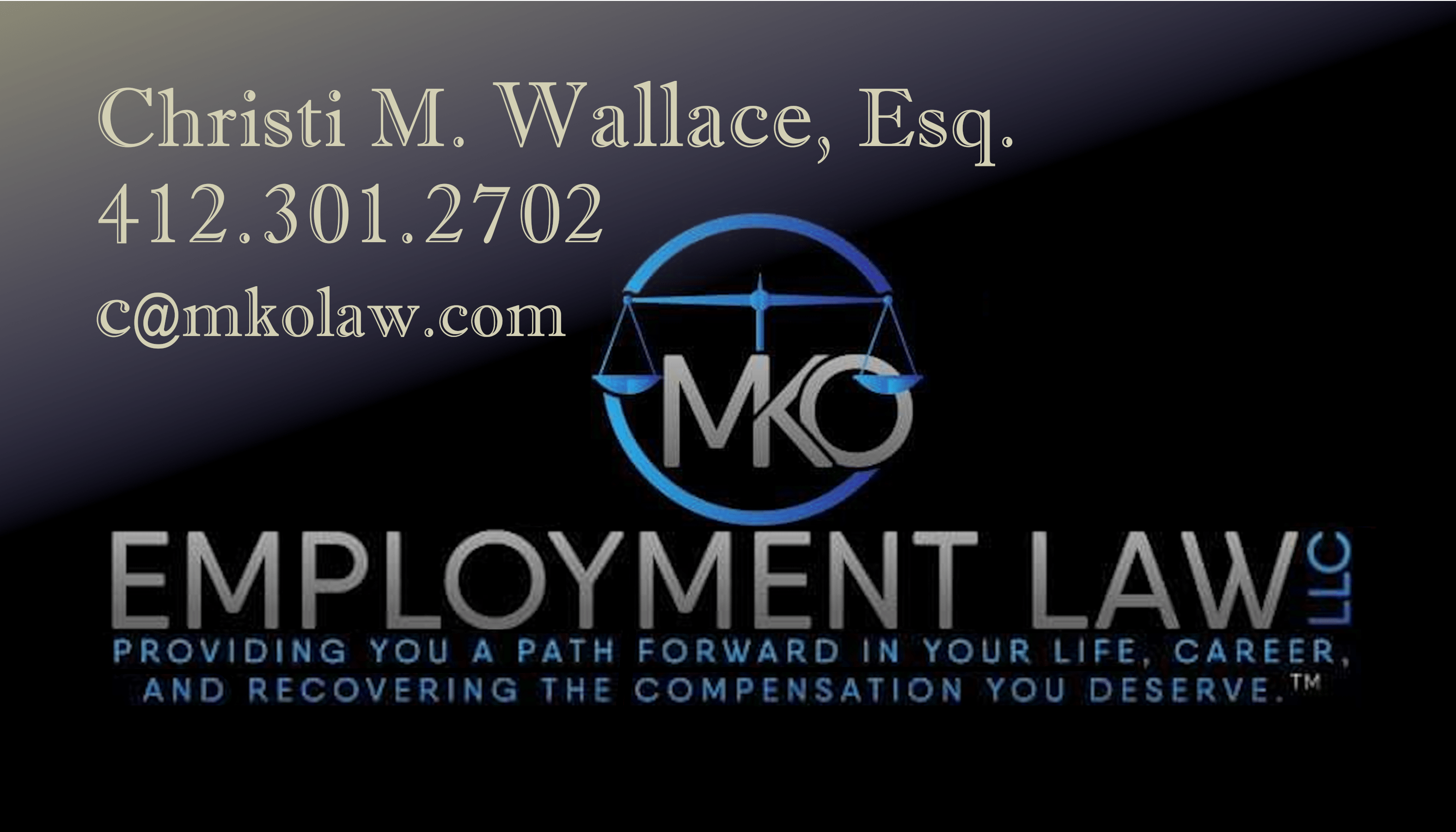 Call For A Consultation:
---
Employment Discrimination
---
Gender Discrimination & Sexual Harassment
---
Medical Accommodation & Disability
---
ATTORNEY WALLACE ACHIEVEMENTS
Since 2012, Christi has worked exclusively in the employment law field. Christi started her journey at Duquesne University and then went to Duquesne University School of Law. Christi's passion and dedication for employment law translates into amazing results for her clients. Christi has worked with over 900 clients with employment related issues. Christi has recovered well over a million dollars each year and for several years for her clients.
Christi started her career as an Associate with an employment law firm. Christi has been a top performer and became the first and only female Partner of that firm. 
While Christi focuses extensively on Federal Employment Litigation, she believes cases often start with the unemployment determination and has handled over 1,000 Unemployment Cases.
Christi has been rated as a Super Lawyer where each year, no more than two point five percent (2.5%) of lawyers are selected by the research team at Super Lawyers to receive this high honor.
Recognizing that many of her clients are struggling, she listens to her clients and works with them to get great results. She responds diligently to her clients' calls, emails, and text messages. She makes herself extremely available to all of her clients. Christi is a firm believer that knowing a case in depth results in excellent results.
Christi worked with MKO Employment Law LLC owner Michael Kraemer previously and was a key person helping the business achieve awards such as "Fastest Growing Business" as well as "Best Places to Work" by the Pittsburgh Business Times. She was eager to join his newest venture to create a boutique employment law firm that is narrowly focused on employment based claims for employees. Boutique law firms are not a one-stop legal shop, and that's a good thing.
Christi is admitted to practice in Pennsylvania and is admitted to the United States District Court across Pennsylvania including the Western District of Pennsylvania, Eastern District of Pennsylvania, and Middle District of Pennsylvania. She is also admitted to the United States Third Circuit Court of Appeals and Supreme Court of Pennsylvania.
Christi was born and raised in Pittsburgh, PA. She loves everything about Pittsburgh and is a true Pittsburgher. During law school at Duquesne, Christi worked at the Unemployment Compensation Clinic to help underprivileged people obtain Unemployment Benefits, which is often the starting point of employment cases. Christi fell in love with employment law and has been doing it ever since. She has developed a vast knowledge of all employment related issues.
EDUCATIONAL & PROFESSIONAL EXCELLENCE
Undergraduate
Christi is a graduate of Duquesne University with a 4.0 GPA.
BA Political Science & Art History
Graduate
Duquesne University, School of Law JD. 
Unemployment Compensation Clinic

Program designed to help indigent employees who needed representation in unemployment compensation hearings. 
Professional
MKO Employment Law LLC
RMN Law LLC 
Kraemer, Manes & Associates LLC
Kraemer Law Firm LLC
Shah Law Group, P.C.
Brenlove & Fuller, LLC
*Any testimonial, statement, endorsement, numerical figure, image/video, rating, or review (that may be from many years of practice with many people) does not constitute a guarantee, suggestion, promise, influence, or prediction about anything relating to your representation, selection of law firm or attorney, ability to practice, a consumer reliance of any kind, or any legal matter. Results vary. MKO is not in any way a successor entity to any other law firm.