M-F

7am-

7pm


Sat/Sun

8am-

3pm
For a free consultation with an employment lawyer, please contact us by phone. Otherwise, send an e-mail, message, or chat and we will reach out to you as soon as possible.
MKO Located At 3 Crossings: Strip District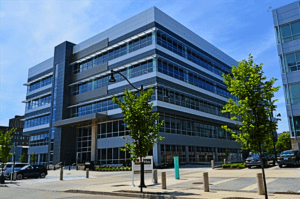 We are located in, "Pittsburgh's newest neighborhood, inside its most original." 3 Crossings is a 20-acre development in the vibrant and eclectic Strip District neighborhood of Pittsburgh, in the heart of Pittsburgh's newest technology center. This location offers our clients a relaxing and comfortable waterfront environment in the city that is easily accessible and without the downtown hassle. There is ample parking, shops, restaurants, and entertainment. 
Reimagine your legal experience.
Speak with an employment lawyer now, call 412-301-2700
Strip District Location – Newly Constructed!

M.K.O. Employment Law LLC - Employment Attorney
2545 Railroad Street, Suite 100
Pittsburgh, PA 15222