Attorney
Lawyer Desk / Michael Kraemer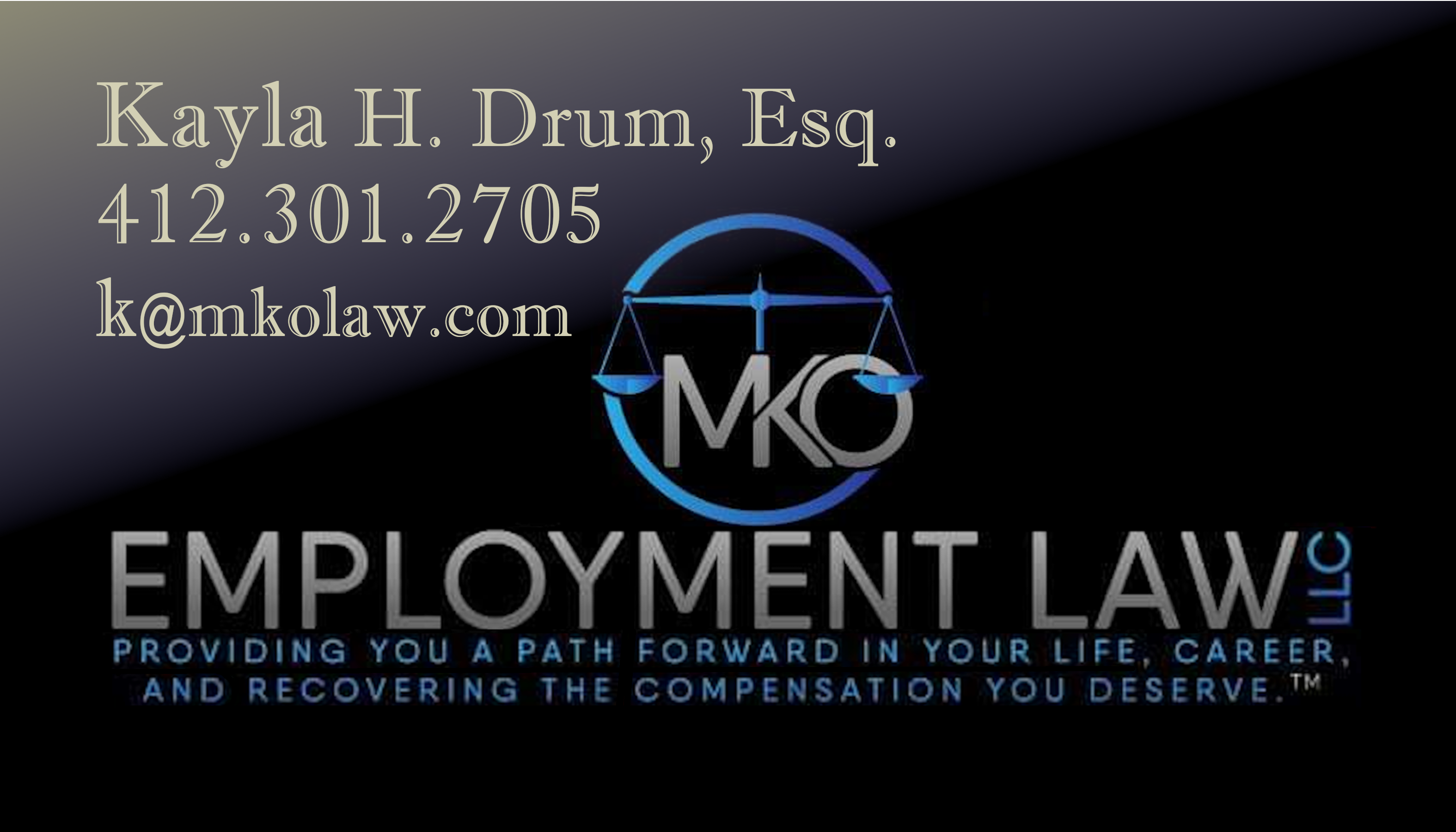 ATTORNEY DRUM ACHIEVEMENTS
Kayla is an experienced trial lawyer with a focus on employment law including wrongful termination, harassment, discrimination, retaliation, and unemployment compensation. 
Kayla attended the Pennsylvania State University and obtained two bachelor's degrees. She later attended the University of Pittsburgh for law school where she met attorney Michael Kraemer many years ago during the specialized program for Trial Advocacy in a course taught by a highly esteemed current federal judge.
Kayla started her law career at the Allegheny County District Attorney's Office where she tried a number of jury and bench trials to verdict. This courtroom advocacy experience would later make her a potent employment litigator where she pursues her cases with the same enthusiasm and vigor that she developed as a prosecutor.
Kayla then joined attorney Michael Kraemer (at his prior large firm that he founded) as well as Christi Wallace and began to practice employment law exclusively. Kayla greatly enjoyed entering private practice to fight for employee's rights, which she has continued to do throughout her career. Soon after, Kayla rejoined Michael and Christi at this small and exclusive boutique law firm, MKO Employment Law, LLC. 
The MKO Legal Team thrives on their long term Friendship, and copious experience in Advocacy, Litigation, and Employment Law. Kayla believes that the key to our highly acclaimed representation starts with the core friendships between everyone at this firm, "We are not just co-workers, we are lifetime friends." Coupled with our exclusive practice in Employment Law, we fashion ourselves as the lawyers at the pinnacle our highly specific profession. 
Kayla is admitted to practice in Pennsylvania including the United States District Court for the Western District of Pennsylvania, the United States District Court for the Middle District of Pennsylvania, and the United States Court for the Eastern District of Pennsylvania. 
When she is not litigating, this Pennsylvania native loves spending time with her two beautiful children and loving husband. You can often catch her out on one of the rivers or lake boating. 
*Any testimonial, statement, endorsement, numerical figure, image/video, rating, or review (that may be from many years of practice with many people) does not constitute a guarantee, suggestion, promise, influence, or prediction about anything relating to your representation, selection of law firm or attorney, ability to practice, a consumer reliance of any kind, or any legal matter. Results vary. MKO is not in any way a successor entity to any other law firm.