Attorney
Lawyer Desk / Michael Kraemer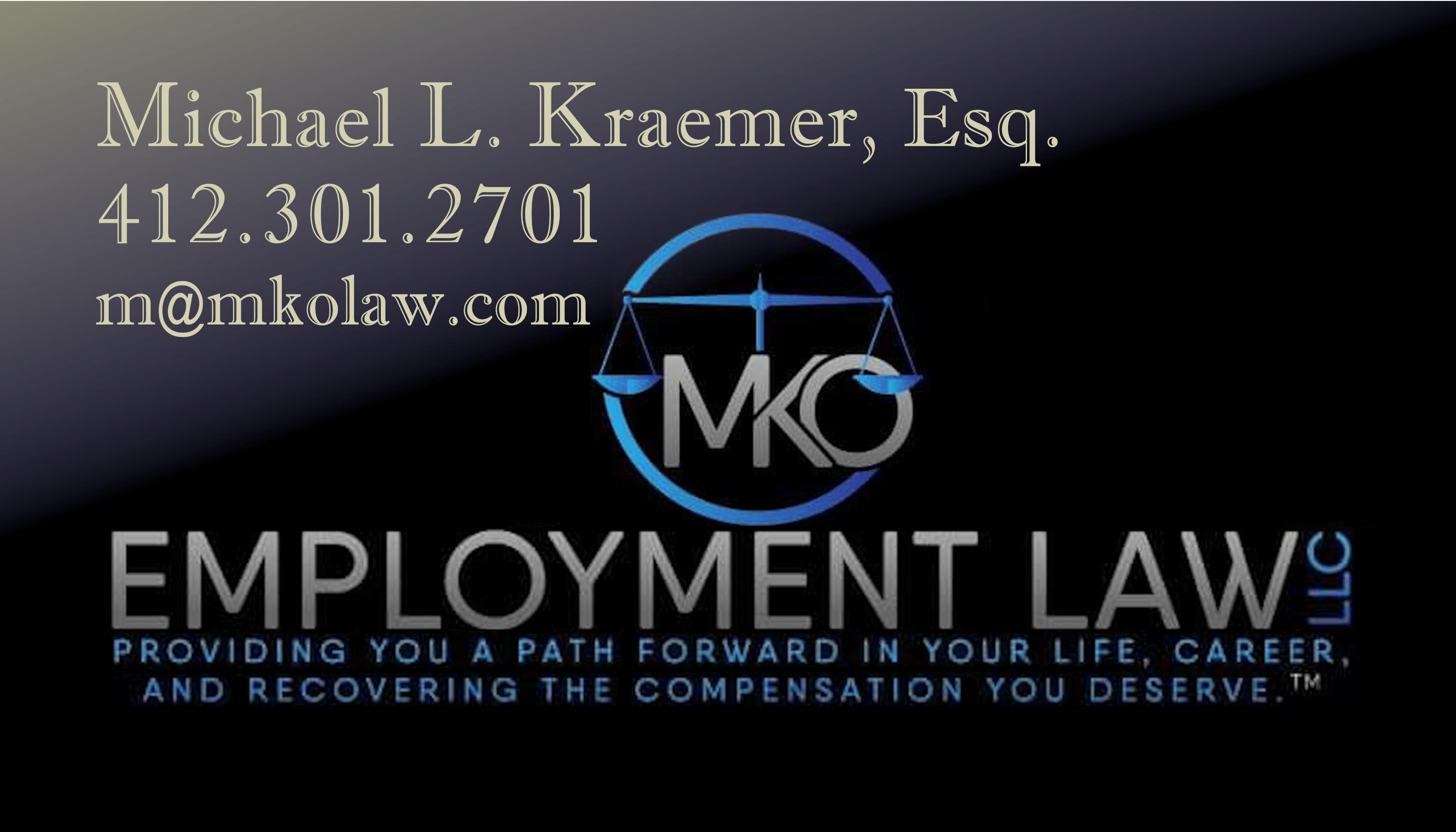 Call For An Employment Consultation:
---
Employment Discrimination
---
Gender Discrimination & Sexual Harassment
---
Medical Accommodation & Disability
---
ATTORNEY KRAEMER ACHIEVEMENTS
In 2012 Michael founded an employment law firm that represented thousands of plaintiffs throughout the state of Pennsylvania, with offices in Pittsburgh and Philadelphia and nearly 30 employees at one point. Two years in a row named a "Fastest Growing Business" as well as "Best Places to Work" by the Pittsburgh Business Times.
As a serial entrepreneur, Michael saw a niche' market for a boutique employment law firm (meaning one that almost exclusively handles employment cases and brands itself as such) that serves an alternative to the large firm multi-practice area experience. In 2019 Michael founded MKO Employment Law LLC which focuses very directly on each individual client and their case, but also evaluates their situation and future as a whole as it relates to litigation. Hence, the MKO credo, "Providing you a path forward in your life, career, and recovering the compensation you deserve.™"
Recognizing that many employment clients are in hard situations, Michael takes pride in providing sincere attention and strong representation. He is well-versed in the nuances of employment law, and can cut quickly to the most important legal and practical issues in any situation.
After dispensing thousands of legal consultations to potential clients, I can easily say it's my favorite part of my practice. My guidance, even if MKO can't accept them as a client, helps people immeasurably in figuring out what to do and how to move forward with their lives. I make a measurable impact every single day on many people. Who else can say that about their job? I love it. Call me. – Michael Kraemer
Michael focuses his personal practice on dispensing legal advice and consultations to the vast number of individuals seeking legal help and assistance.
Michael has studied and traveled extensively abroad, visiting and living in over 45 different countries, and you should ask him about it. He draws on this and other life and professional experiences to guide people through what is most likely the worst moment in their life.
He is admitted to practice law in the Commonwealth of Pennsylvania and the state of Ohio.
EDUCATIONAL & PROFESSIONAL EXCELLENCE
Undergraduate
Michael is a graduate of the University of Pittsburgh Dietrich School of Arts and Sciences with a B.A. in Political Science. With notable international studies.
Imperial College of London: England European political and cultural survey.
University of Pittsburgh: China and Vietnam Scholarship for an international study.
University of Virginia: Semester-at-Sea Semester international educational voyage.
Graduate
University of Pittsburgh, School of Law JD
Civil Litigation Certificate Program 

Specialization in an advocacy program designated for aspiring trial lawyers.

Seminar Paper and Presentation, Cost-Shifting: E-Discovery Discord 

Analysis of the inconsistent application of e-discovery scope and cost-shifting burdens.

Michigan State Law Review, Article Cited: Redesigning The American Law School 
Phi Alpha Delta Legal Fraternity 
Professional Experience
Licensed in Pennsylvania and Ohio
MKO Employment Law LLC
Kraemer, Manes & Associates LLC
Kraemer Law Firm LLC
Fried Law Offices, P.C.
Neighborhood Legal Services
Superior Court of Pennsylvania
Pennsylvania Human Relations Commission
JURIST, University of Pittsburgh School of Law
Pittsburgh Mayor's Civic Leadership Academy
*Any testimonial, statement, endorsement, numerical figure, image/video, rating, or review (that may be from many years of practice with many people) does not constitute a guarantee, suggestion, promise, influence, or prediction about anything relating to your representation, selection of law firm or attorney, ability to practice, a consumer reliance of any kind, or any legal matter. Results vary. MKO is not in any way a successor entity to any other law firm.